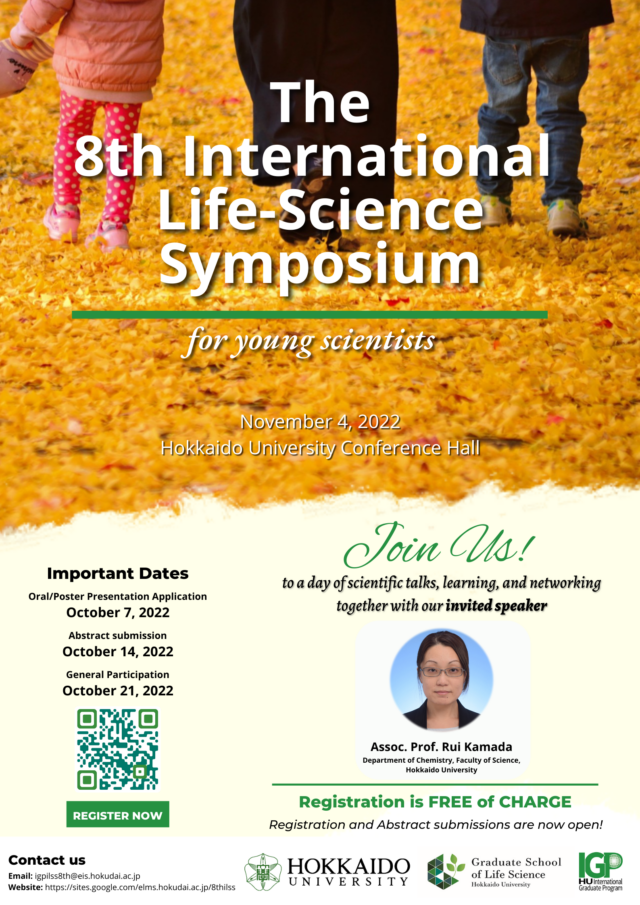 PDF (662KB)
Dear life science colleagues,
We are pleased to announce the 8th International Life-Science Symposium (ILSS) which will be hold on November 4th, 2022, at Hokkaido University's Conference Hall.
The 8th ILSS is a Symposium organized by IGP (International Graduate Program) doctoral courses students with the support of Hokkaido University.
During the event, we will have the privilege of having Assoc. Prof. Rui Kamada from Faculty of Science Department of Chemistry, Hokkaido University with us who will give a lecture about her work as invited speaker.
(Researcher information at https://www2.sci.hokudai.ac.jp/faculty/researcher/rui-kamada)
This symposium will give young researchers the opportunity to present their work to an audience, helping them to sharpen their communication skills and growing as future researchers.
This year, we will award the best oral presentations in order to value the research progress of young researchers and encourage them to keep trying in the future.
We really hope this symposium helps you in your career and let you develop your skills in an international environment. 
===================================================== 
Details about the 8th ILSS:
-Date: November 4th (Fri), 2022
-Place: Hokkaido University's Conference Hall
-Presentation styles:Oral or Poster presentation
-Website:https://sites.google.com/elms.hokudai.ac.jp/8thilss
-Online registration:https://sites.google.com/elms.hokudai.ac.jp/8thilss/registration
-Deadlines:
  Application for oral or poster presentation: Oct. 7th, 2022
  Abstract submission: Oct. 14th, 2022
  Participation: Oct. 21st, 2022
– Symposium Fee: Free
=====================================================
We are looking forward to your attendance.
Sincerely,
Masahiro Yoshida
8th IGP-ILSS Chairperson
Email: igpilss8th@eis.hokudai.ac.jp