Laboratory of Frontier Biomaterials Science
Research Theme

Development of nucleic acid nanomedicines for immunomodulation / Study on mechanism of osteogenesis imperfecta type V (OI-V) and the treatment of OI-V by nucleic acid nanomedicines / Molecular mechanism on cytotoxicity of nanoparticles / Control of cellular function on material surface

Research Keywords

Nanomedicine, nanobiotechnology, protein engineering, nucleic acid-based drug, adjuvant, DNA aptamer, biosensor, immune system, comprehensive gene analysis, nanoparticle, DNA delivery, nanotoxicity
Staff
Overview of Research and Education
The National Institute for Materials Science (NIMS) and the Graduate School of Life Science of the Hokkaido University have established a joint Doctoral Program in the Field of Frontier Biomaterials Science. The laboratory is located in NIMS in Tsukuba city, Ibaraki.
When pathogens infect us, our cells recognize DNA or RNA molecules of bacteria and viruses and the immune system is activated. With attention to this biological immune system, we are developing nucleic acid-based nanomedical molecules, and also nanoparticle-conjugated nanomedicines, and applying these to the treatment of infectious diseases and allergies.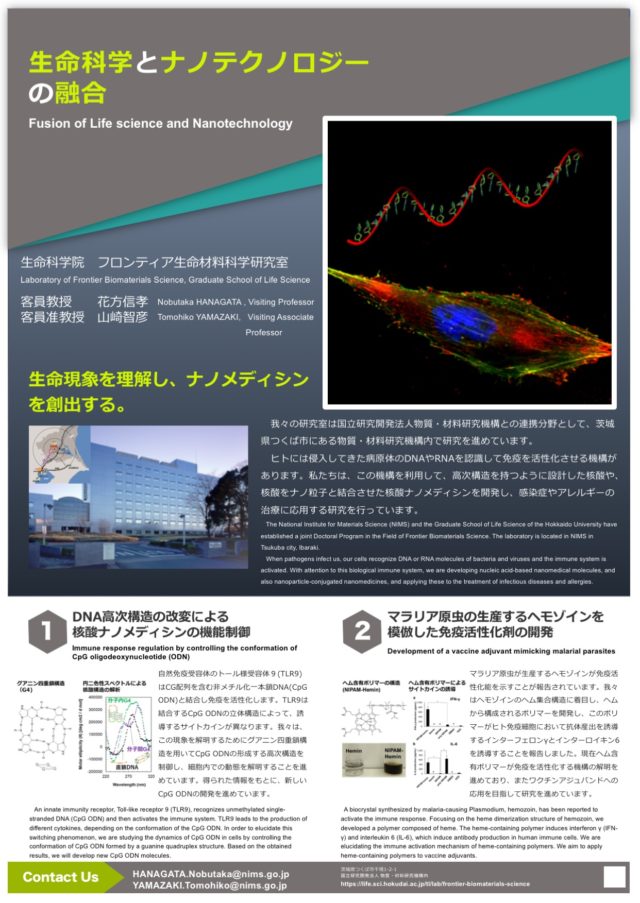 Laboratory of Frontier Biomaterials Science (hanagata2018)
Charge
Contact
Address

〒305-0047
1-2-1 Sengen, Tsukuba, Ibaraki 305-0047, Japan
Nanotechnology Innovation Station, National Institute for Materials Science

Phone

029-860-4774

Fax

029-859-2475

Email

HANAGATA.Nobutaka*nims.go.jp
(Please replace * with @ when sending e-mail.)
Representative Publications
Anh Thi Tram Tu, Kazuaki Hoshi, Miwako Shobo, Tomohiko Yamazaki. G-Quadruplex-Based CpG Oligodeoxynucleotide/DOTAP Complex Strongly Stimulates Immunity in CpG Motif-Specific and Loop-Length-Dependent Manners. Nanomedicine: Nanotechnology, Biology and Medicine 40 (2022) 102508
Fika Ayu Safitri, Anh Thi Tram Tu, Kazuaki Hoshi, Miwako Shobo, Arief Budi Witarto, Sony Heru Sumarsono, Ernawati Arifin Giri-Rachman, Kaori Tsukakoshi, Kazunori Ikebukuro, Tomohiko Yamazaki. Enhancement of the Immunostimulatory Effect of Phosphodiester CpG Oligodeoxynucleotides by an Antiparallel Guanine-Quadruplex Structural Scaffold. Biomolecules 11 [11] (2021) 1617
Hongxin Wang, Han Zhang, Bo Da, Dabao Lu, Ryo Tamura, Kenta Goto, Ikumu Watanabe, Daisuke Fujita, Nobutaka Hanagata, Junko Kano, Tomoki Nakagawa, and Masayuki Noguchi. Mechanics biomarker for cancer cells unidentifiable through morphology and elastic modulus. Nano Letter 21 (2021) 1538-1545
Anh Thi Tram Tu, Kazuaki Hoshi, Kazunori Ikebukuro, Nobutaka Hanagata, Tomohiko Yamazaki. Monomeric G-Quadruplex-Based CpG Oligodeoxynucleotides as Potent Toll-Like Receptor 9 Agonists. Biomacromolecules. 21 [9] (2020) 3644-3657
Shanmugavel Chinnathambi, Nobutaka Hanagata, Tomohiko Yamazaki, Naoto Shirahata. Nano-Bio Interaction between Blood Plasma Proteins and Water-Soluble Silicon Quantum Dots with Enabled Cellular Uptake and Minimal Cytotoxicity. Nanomaterials. 10 [11] (2020) 2250
Nobutaka Hanagata, Taro Takemura, Keiko Kamimura, Toshiaki Koda. Effect of immunosuppressants on a mouse model of osteogenesis imperfecta type V harboring a heterozygeous Ifitm5 c.-14C>T mutation. Scientifc Reports 10[1] (2020) 21197
Note
NIMS Graduate Research Assistantship
NIMS offers the NIMS Graduate Research Assistantship to doctoral students who aspire to a career as researchers in materials science. The assistantship carries a monthly stipend to assist academically deserving students in fulfilling their academic goals.