Laboratory of Frontier Biomaterials Science
Research Theme

Development of nucleic acid nanomedicines for immunomodulation / Study on mechanism of osteogenesis imperfecta type V (OI-V) and the treatment of OI-V by nucleic acid nanomedicines / Molecular mechanism on cytotoxicity of nanoparticles / Control of cellular function on material surface

Research Keywords

Nanomedicine, nanobiotechnology, protein engineering, nucleic acid-based drug, adjuvant, DNA aptamer, biosensor, immune system, comprehensive gene analysis, nanoparticle, DNA delivery, nanotoxicity
Staff
Overview of Research and Education
The National Institute for Materials Science (NIMS) and the Graduate School of Life Science of the Hokkaido University have established a joint Doctoral Program in the Field of Frontier Biomaterials Science. The laboratory is located in NIMS in Tsukuba city, Ibaraki.
When pathogens infect us, our cells recognize DNA or RNA molecules of bacteria and viruses and the immune system is activated. With attention to this biological immune system, we are developing nucleic acid-based nanomedical molecules, and also nanoparticle-conjugated nanomedicines, and applying these to the treatment of infectious diseases and allergies.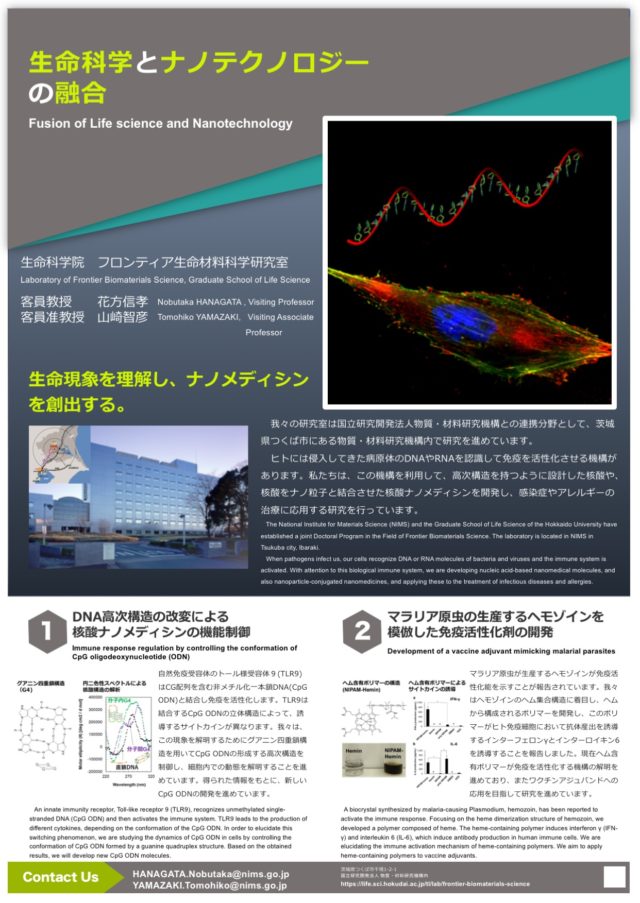 Laboratory of Frontier Biomaterials Science (hanagata2018)
Charge
Contact
Address

〒305-0047
1-2-1 Sengen, Tsukuba, Ibaraki 305-0047, Japan
Nanotechnology Innovation Station, National Institute for Materials Science

Phone

029-860-4774

Fax

029-859-2475

Email

HANAGATA.Nobutaka*nims.go.jp
(Please replace * with @ when sending e-mail.)
Representative Publications
Shanmugavel Chinnathambi, Nobutaka Hanagata. Photostability of quantum dot micelles under ultraviolet irradiation. Luminescence. 34 [5] (2019) 472-479
Shanmugavel Chinnathambi, Subramani Karthikeyan, Nobutaka Hanagata, Naoto Shirahata. Molecular interaction of silicon quantum dot micelles with plasma proteins: hemoglobin and thrombin. RSC Advances. 9 [26] (2019) 14928-14936
Souichi Ikeno, Naoko Nakano, Keigo Sano, Takashi Minowa, Wataru Sato, Ryosuke Akatsu, Nobuo Sakata, Nobutaka Hanagata, Makiko Fujii, Fumiko Itoh, Susumu Itoh. PDZK1-interacting protein 1 (PDZK1IP1) traps Smad4 protein and suppresses transforming growth factor-β (TGF-β) signaling. Journal of Biological Chemistry. 294 [13] (2019) 4966-4980
Kazuaki Hoshi, Tomohiko Yamazaki, Yuuki Sugiyama, Kaori Tsukakoshi, Wakako Tsugawa, Koji Sode, Kazunori Ikebukuro. G-Quadruplex Structure Improves the Immunostimulatory Effects of CpG Oligonucleotides. Nucleic Acid Therapeutics. 29 [4] (2019) 224-229
Febriana Catur Iswanti, Indah Nurulita, Samsuridjal Djauzi, Mohamad Sadikin, Arief Budi Witarto, Tomohiko Yamazaki. Preparation, characterization, and evaluation of chitosan-based nanoparticles as CpG ODN carriers. Biotechnology & Biotechnological Equipment. 33 [1] (2019) 390-396
Note
NIMS Graduate Research Assistantship
NIMS offers the NIMS Graduate Research Assistantship to doctoral students who aspire to a career as researchers in materials science. The assistantship carries a monthly stipend to assist academically deserving students in fulfilling their academic goals.