Completing the four years in a favorable environment!
Process of the four years when you enrolled in 2011 or then transferred to the faculty and course.
First year
Enrollment guidance for the General Education Department / Guidance for each faculty (April)
Omnibus lectures that teachers in this faculty give to introduce the most advanced life science as the first year all-campus education courses: Environment and human beings (Frontier Life Sciences created by biological function macromolecules I and II) is opened. (First semester and second semester), we hope students attend this course if they are interested in life and organisms, or if they are wondering which major to choose.
An event that introduces the courses is held. It is time to think about which course to transfer to. (Summer to winter)
Registration for transferring to a faculty and course (March) → Biological Science course of the Faculty of Science (Macromolecular Science and Engineering)
Second year
Guidance for Faculty of Science and course (April)
The classes of the Faculty of Science specialized subjects (optional, optional compulsory, compulsory) begin (April)
Faculty and Graduate School Joint welcome party; Genghis Khan Party (called Jinpa, around May)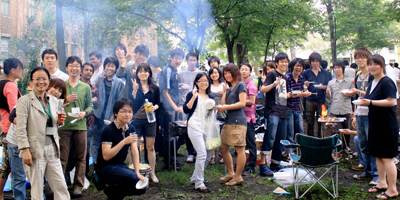 Macromolecule science exhibition and simulation conducted by students are held at Hokkaido University Festival (Early June)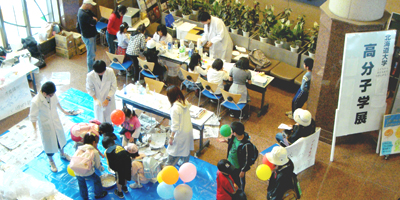 Third year
Guidance for the third year students (April)
Students will learn new knowledge and skills for graduation research in the specialized lectures and experiments.
A laboratory tour is held. It is time to think about what laboratory to join and what research to conduct.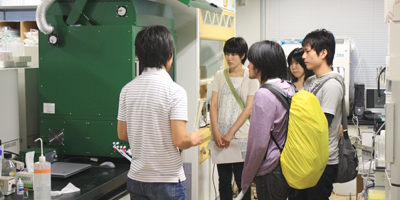 Fourth year
Spend over a year and complete the graduation research. Students also improve their skills of English, presentation and discussion through paper subscriptions.
Graduate school entrance exam (August)
Graduation research process report meeting (February)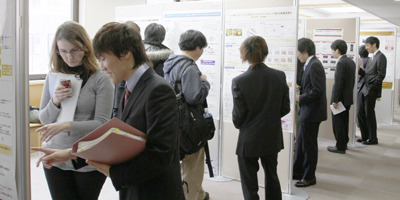 Graduation ceremony (March)